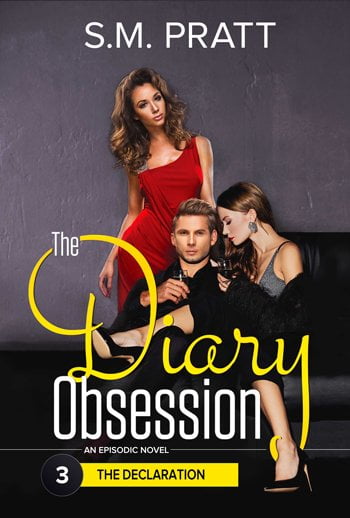 The Declaration
An FFM Bisexual Menage and Romance in the Making
Series: The Diary Obsession, Episode 3
Most of the third episode (The Declaration) takes place in Madrid, Spain. Sophia declares her love to Virginia who doesn't react the way Sophia hoped. It also features a steamy threesome reunion with JuanMa. As mentioned at the end of episode two, Charlie will also head to Spain to meet with Virginia and try to resolve yet another fight between his two favorite ladies.
Get the e-book:
Books in This Series
Season Two of
The Stewardess's Diary

Saga

The second season focuses on Captain Charlie as he deals with his big problem: He's obsessed with not just one woman but two. These sexy, smart, and beautiful ladies want to add a man to their existing relationship, and Charlie is convinced he's the right guy for the job.

Read along as he stumbles his way to their hearts by deciphering the women's diaries.

NOTE: These books are best read AFTER reading the first season of The Stewardess's Diary.
---
Bundles for Season Two of
The Stewardess's Diary

Saga