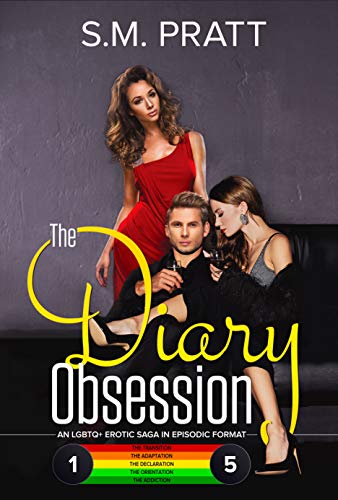 The Diary Obsession (Episodes 1-5)
Two women. One man. Zero limits.
My name's Charlie, and I have a problem: I'm obsessed with two talented, smart, and sexy women.
Armed with their diaries, I'll do everything I can to achieve my goal: become their man.
The Diary Obsession is an episodic novel that will contain ten episodes (when the season is over), five of which are included in this bundle:
Episode 1: The Transition bridges the gap between last season (another episodic novel called The Stewardess's Diary) and Captain Charlie's current situation. It explains how Sophia's diary made it into his carry-on and how this whole obsession started. It also brings the reader back to the present when Charlie touches base with Virginia again.
Episode 2: The Adaptation covers the problems Sophia faces as she settles and creates her new life in Paris. It also introduces Virginia's daughter (who definitely has issues of her own) and sees Sophia and Virginia reunite in person. Of course, Charlie will take you back to the present with his progress in courting his favorite ladies.
Episode 3: The Declaration takes place in Madrid, Spain. Sophia declares her love to Virginia who doesn't react the way Sophia hoped. It also features a steamy threesome reunion with JuanMa. As mentioned at the end of episode two, Charlie will also head to Spain to meet with Virginia and try to resolve yet another fight between his two favorite ladies.
In Episode 4: The Orientation, Sophia and Virginia begin to form a closer bond and finally open up to each other. Virginia introduces her daughter to Sophia, while Sophia gets Virginia a visitor pass to the maison close. Will Charlie's ladies keep their hands on each other or will they enjoy some of the perks that Sophia's unique work environment has to offer?
Episode 5: The Addiction takes place in London where JuanMa, the ladies' friend-with-benefits, performs live on stage. Sophia and Virginia will partake in his new rock star lifestyle, but will it prove too much for them or their new and fragile relationship?
If you like your LGBTQ+ romance with a good serving of mystery, action, and sizzling heat, then you'll love this episodic novel about me and my obsession with two gorgeous women.
Get the e-book:
Books in This Series
Season Two of
The Stewardess's Diary

Saga

The second season focuses on Captain Charlie as he deals with his big problem: He's obsessed with not just one woman but two. These sexy, smart, and beautiful ladies want to add a man to their existing relationship, and Charlie is convinced he's the right guy for the job.

Read along as he stumbles his way to their hearts by deciphering the women's diaries.

NOTE: These books are best read AFTER reading the first season of The Stewardess's Diary.
---
Bundles for Season Two of
The Stewardess's Diary

Saga