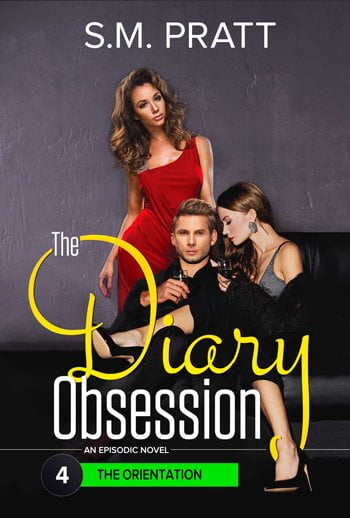 The Orientation
Can There Be Romance in a Brothel?
Series: The Diary Obsession, Episode 4
In Episode 4 (The Orientation), Sophia and Virginia begin to form a closer bond and finally open up to each other. Virginia introduces her daughter to Sophia, while Sophia gets Virginia a visitor pass to the maison close. Will Capt. Charlie's favorite ladies keep their hands on each other or will they enjoy some of the perks that Sophia's unique work environment has to offer?
Get the e-book:
Books in This Series
Season Two of
The Stewardess's Diary

Saga

The second season focuses on Captain Charlie as he deals with his big problem: He's obsessed with not just one woman but two. These sexy, smart, and beautiful ladies want to add a man to their existing relationship, and Charlie is convinced he's the right guy for the job.

Read along as he stumbles his way to their hearts by deciphering the women's diaries.

NOTE: These books are best read AFTER reading the first season of The Stewardess's Diary.
---
Bundles for Season Two of
The Stewardess's Diary

Saga