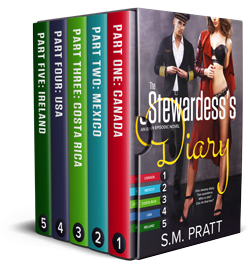 Follow the flight path of a determined airline captain…
as he tracks down the mysterious stewardess who dropped her diary in his briefcase. The more he reads, the racier it gets; each entry more addictive than the last.
As he delves further into her written accounts, compelled by her increasingly progressive sexual adventures and excited by the clues he uncovers, his obsession grows.
His horizons will expand as he attempts to locate her, but will his womanizing tendencies help him succeed or be his downfall?
If you like smoking-hot voyeurism, innovative storytelling, and sensual scenes that break the norm, then you'll love S.M. Pratt's sizzling tale.
Subscribe to get access to the first five stories right away.